Image Source: https://coschedule.com/
Latent Semantic Indexing
Latent Semantic Indexing sounds a lot more complicated than it actually is. In fact, if you break it down word for word, it immediately becomes a lot easier to understand.
Latent Semantic Indexing
The underlying meanings of words sorted into… things.
Okay, so the above definition is a little wobbly around the edges, but you get the point. Latent Semantic Indexing is the indexing of web pages based on the frequency of a whole variety of related keywords and phrases. They look at how the words on the page all relate to each other, rather than the densities of individual words, to find the underlying theme of the web page. This is a far more accurate way of determining the context, as copy writers before could simply just stuff the page full of keywords to rank for the keywords that they're targeting for search without providing any further evidence that the page is actually relevant to those keywords. Search engines now have learnt to look at the bigger picture.
Things Not Strings!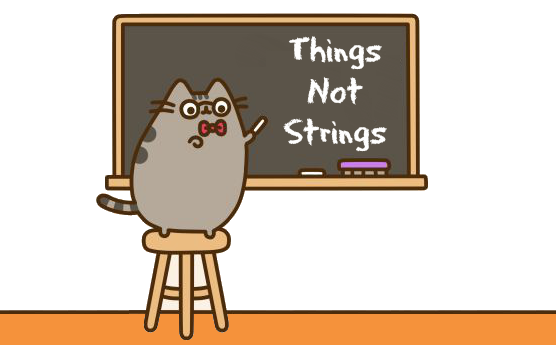 You might have heard of this one before… Often muttered between those within the SEO community like some sort of code word to get a free gold star along with a lifetime membership of Moz Pro. Like "content is king", "things not strings" has become yet another mantra for the SEO-obsessed and the mere utterance of the phrase will win you the heavily sought after "oohs" and "aahs" of your peers.
"Things not strings" refers to the shifted focus from keywords to topics in the evolution of SEO. Strings to mean the exact search queries typed into Google, and things meaning… well, things. Topics, themes, motifs, subject matters, etc, etc… Though Pusheen here loves nothing better than playing around with balls of string, search engines have grown up a bit in the past few years and know that its users care more about things… not strings.
Keyword Research for Semantic SEO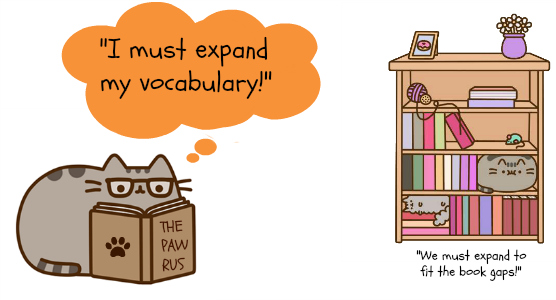 Synonyms are your new best friends. So retrieve your thesaurus from your highest bookshelf, my chums! (Or, y'know, visit thesaurus.com….) And use it as your roadmap to better content writing!
But your journey hasn't stopped there, oh no! Semantic SEO isn't just about how many variants of your main keywords you can use and how many times you can rephrase your key phrases in your headings. It's about making sure that you are providing the user with a wealth of information. If something is written well, variants of keywords and other related subtopics should naturally occur within the content anyway. Typically in the past, SEO guys and gals would rank web pages for specific keywords through the redundant use of those same keywords over and over again on the page. Overuse of keywords can indicate badly written content; it's written for search engines, not for users. Now you need to think about casting a wider net. You need to understand how users search and formulate target topics rather than target keywords and, if effective, you can start ranking for all sorts of bizarre long tail keywords relevant to your web page. Even if those keywords are nowhere to be found on your actual web page. LSI keywords are a totally different game.